Highlights
New Filament runout sensor: the sensor will send the signal to the printer when the filament is run out and the printer will pause the print job until the new filament is loaded.
4.3-inch vertical command panel: better conform to user operation habits, easy to use.
Filament Auto-Feeding: put in filament end and trigger filament auto-feeding via the command panel. The new feeding module ensures stable feeding, minimizes breaking.
Resume Printing: resumes 3D print exactly from where it stops when power is back on, no need to abandon current print and start from the beginning.
Ultra-flat Glass Print Bed: strong adhesion, excellent first-layer printing, easy to remove object after print finishing.
Software supported: Cura/ Simplify3D/ VoxelMaker.
Filament supported: PLA, ABS, PETG, TPU
Reviews
Tech Specs
| | |
| --- | --- |
| Model | Aquila X2 |
| Molding Technology | FDM (Fused Deposition Molding) |
| Printing Size | 220x220x250 mm |
| Printing Speed | ≤180 mm/s, normally 50-80 mm/s |
| Nozzle Diameter | 0.4 mm |
| Extruder Temperature | ≤250℃ |
| Hotbed Temperature | ≤110℃ |
| File Transfer | Online/ SD Card Offline |
| File Format | STL/ AMF/ OBJ |
| Slicing Software | Cura/ Simplify3D/ VoxelMaker |
| Power Supply Input | AC 100-120V/6.8A, 200-240V/3.4A |
| Power Supply Output | DC 24V/14.6A 350W |
| Filament | PLA, ABS, TPU, PETG, etc |
| Net Weight | 8.2 kg |
| Gross Weight | 10 kg |
| Packaging Size | 527x527x274 mm |
| Machine Size | 475x537x511 mm |
FAQ
What are the main differences between the original Voxelab Aquila and Voxelab Aquila X2?
1. Voxelab Aquila X2 armed with a filament runout sensor which is designed for detect whether your filament is run out during the printing process.
2. Voxelab Aquila X2 has a new vertical design of display panel.
3. A new handle added on the top of Aquila X2.
Does Voxelab Aquila X2 still need leveling?
Yes. There are 4 wheels under the hotbed. It is quite easy for manual leveling.
​What filaments do Voxelab Aquila X2 use for printing?
PLA, PETG, TPU, ABS
Is there any community for Voxelab Aquila X2?
Yes. You can join our official Facebook group or visit Reddit r/VoxelabAquila.
More Details
Advanced Version of Aquila
By keeping the main properties of Aquila, adding filament detection sensors, and advancing printing performance, 
Aquila X2 becomes an even more friendly 3d printer for beginners. 
Beginner Friendly Operation
As an entry-level FDM 3D Printer, Aquila X2 offers simple XY calibration, auto filament loading and unloading, old school screen with rotary knobs, all help provide an easier, more interactive, and engaging way to print 3d models.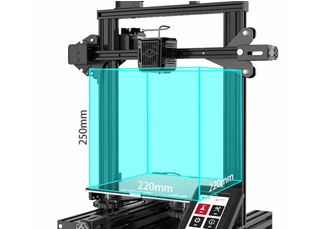 Print Models Freely
Aquila X2 allows you to 3d print teeny-tiny parts to big projects up to 220*220*250mm volume, all with a high success rate.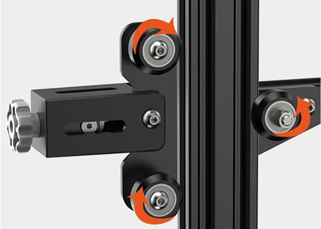 High Standard V Profile
Sturdy V profile pulley ensures steady movement with low noise and excellent wear resistance, more durable and reliable.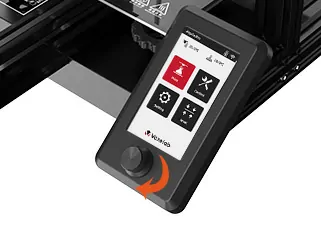 Command 3D Printing Easily
Color knob intuitive screen allows quick view and 3d print setup. The new vertical panel conforms to the operation you wish you had.
5-Minute Quick Heating
Aquila X2's carbon-silicon crystal glass print bed can be heated up to 110℃ within 5 minutes. Its strong adhesion ensures excellent first-layer printing, which eventually guarantees great print quality and easy model removal.
Resume 3D Print Job Freely
Being able to start a 3D printer, turn it off, and restart the print job exactly from where it had left off can be super cool. With the resume printing feature, Aquila X2 allows you to do that. No more worry for failure print caused by accidental power cut-off. 
Add-on for Accurate and Happy 3D Printing
Except for providing an easier way to set up 3D printing accurately and briskly, Aquila X2 allows you to use open-source slicers including Cura, Simplify3D, etc. And you have great control over the printer.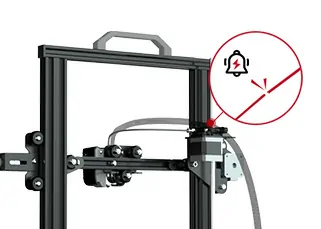 Filament Detection Sensor
Filament detection sensor helps detect & notify filament usage during 3d printing. Maximizes print success rate & avoids filament waste.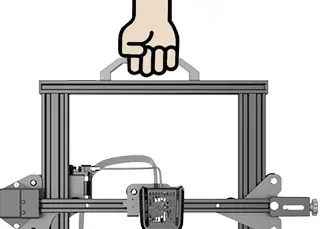 User-friendly Handle
Carry Aquila X2 to anywhere with the handle! Work together with others to 3d print big models, or showcase your 3d print talents with freedom.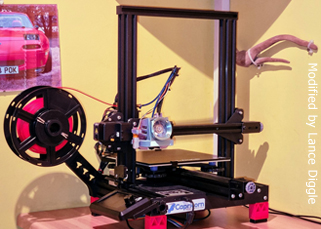 Open-Source 3D Printer
Compatible with multiple slicing software, flexible upgrades, and various modifications, Aquila X2 can be modified into a unique 3d printer.
Did not send what I ordered
Would love to review to aquila x2, however flashforge sent the original aquila
Amazing little printer for a first timer, but still have not received spool of filament.
I found the setup, assembly and first print from this printer a breeze. I have never once used a 3D printer before, but the instructions (and some youtube videos) were enough for me to get started! The first print was amazing, and now have 4 prints (about 50 hours of printing) under my belt. No issues whatsoever. The bed needs leveling after each print, but that's not a huge issue.
I did buy the combo with one extra 1kg roll of filament. I have had this printer for two weeks, but the filament has not arrived. I reached out to the support email, but they could only tell me it's coming. Unfortunately, due to his missing filament - I had to take away one star. Otherwise, it's a brilliant printer. Very first-timer friendly!
Recently Viewed Products
You can stop autoplay, increase/decrease aniamtion speed and number of grid to show and products from store admin.
Email Confirmation
An order confirmation email will be sent to the email address used to submit the order after proceeding with payment. With your confirmation, we will ship out your purchased items as soon as possible. Generally, your order will be processed within 2-3 working days. If longer time required, we will notify by email. Feel free to drop us a line at service@flashforge.com if you have any questions on package lead time.
Notes: If no confirmation received from your side, we assume that you have confirmed the order.
Shipping Time
Flashforge have international local warehouses for most 3D printers, while accessories are basically all stored in China warehouse. If your order combines 3D printers and accessories, we will split the order and ship in two or three packages to ensure you get the 3D printers in advance.
Generally, the delivery of 3D printers might take 2-5 working days while that of accessories maybe slightly longer. More time may be required for accessories customs clearance and other possible factors.
Delivery and Cost
Service
Normally, international shipment will be delivered via DHL, FEDEX, UPS, EMS and SF Express. Estimated shipping time is 5-7 working days. We use DDP shipping terms when ship to following countries. That is saying Flashforge will pay the import duties, taxes, and VAT for you. You just pay the listing price and shipping rate.
North America: United States, Canada
Europe: United Kingdom, France, Germany, Italy, Spain, Czech Republic, Belgium, Netherlands, Poland, Latvia, Sweden, Ireland, Greece, Finland, Denmark, Portugal.
Shipping fee
We offer free shipping on items available in local warehouse. For orders does not qualify for free shipping, you will get an estimated shipping cost on order submission page.
Flashforge takes no responsibility for abnormal orders under the following conditions:
Shipping time might be delayed for 3-5 working days for orders shipped to remote regions or countries with strict customs clearance policy.
Failure of delivery due to undue actions of the consignee including but not limited to changing shipping address after shipment, giving an unknown address (such as a P.O. box or wrong address), giving incorrect contact information, and refusing to accept delivery.
Shipping delay or failure due to force majeure. "Force majeure" means an unforeseen, unavoidable, or insurmountable objective situation and other objective conditions leading to delays in shipping, including but not limited to control or interruption of national or regional air or ground transport systems (such as weather reasons), interference or failure of communication systems, government actions, changes in postal administration policies, wars, earthquakes, typhoons, floods, fires, heavy rains, fog, and other similar events. 
Signature Requirements
For orders above $400, please provide a signature for successful shipment.
Tracking Your Order
Option one: Log in to your Flashforge account, enter "My Orders" section to check corresponding order.
Option two: Contact Flashforge Support by email at service@flashforge3dp.com for more information.