Voxelab Polaris 5.5 resin 3D printer Overview
Voxelab Polaris 5.5 3D printer is almost with the same printing features and the same print effects as Proxima 6.0. The notable difference between them is the build size, with is primarily determined by their LCD screens of different sizes. The LCD screen is not the touch screen that is the user interface for human-machine interaction. LCD screen is the one under the resin tank playing the core role in LCD 3D printing technology. Polaris 5.5 3D printer uses 5.5-inch LCD screen, while Proxima 6.0 3D printer uses 6-inch LCD screen.
As the LCD 3D printing technology applied in Proxima and Polaris, the LCD screen becomes a main consumable. Polaris and Proxima resin 3D printer considerately thought over it and restructure the LCD screen assembly, making it easy to replace and reinstall.
Main Features of Polaris 5.5 resin 3D printer:
Build volume: 4.5*2.6*6.1inch
HD LCD color screen: 2560*1440 pixels in the screen with each single pixel sized at 47 microns. It ensures every model details printed accurately and precisely.
Easy to level: Manual level, quick and easy to finish it.
Out of box: It is whole-set delivery. Take it out of box, level the build plate in 15s, and then you can start printing. It is quite fit for beginners.
Integrated FEP film design: FEP film is tightened to the resin vat by 12 screws. Super easy to replace it.
Compatible with multiple resins: compatible with most 405nm wavelength resins. Perfect with Flashforge / Voxelab resin.
Compatible slicer: ChituBox and VoxelPrint.
Reviews
Tech Specs
| | |
| --- | --- |
| Model | Polaris |
| Molding Technology | LCD Stereolithography |
| Printing Size | 115x65x155 mm |
| Printing Speed | 20 mm/h |
| Layer Thickness | 0.01-0.2 mm |
| LCD Resolution | 2560x1440 |
| LCD Screen Type | 5.5-inch 2K Color LCD |
| Lighting Sources | 405 UV Integrated Light Array |
| File Transfer | U-Disk |
| Touch Screen Type | 3.5-inch Color TFT |
| Slicing Software | VoxelPrint/ ChituBox |
| Power Supply Input | 110-220V, 50-60 Hz |
| Power Supply Output | 12V/5A, 60W |
| Printing Material | Resin |
| Net Weight | 6 kg |
| Gross Weight | 8.5 kg |
| Packaging Size | 310x280x560 mm |
| Machine Size | 230x200x410 mm |


Designed for Garage Kits 3D Printing
Garage kits are getting increasingly popular recently. If you ever want to print your own garage kits, Polaris is the 3D printer you don't want to miss! It's handy, super easy to use. More importantly, it features some innovative technology to present detailed 3d printing performance.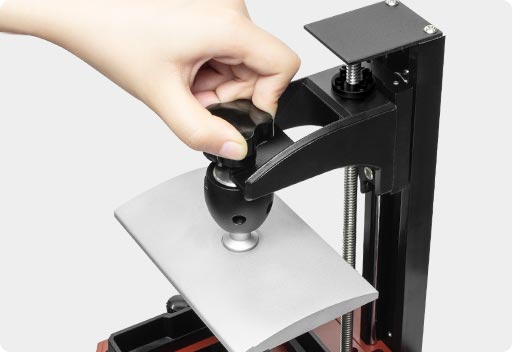 Recently viewed products
People who saw this product also interested in:
Voxelab Proxima 6.0 2K Mono...


$149.00
Voxelab Aquila C2 3D Printer


$179.00
Polaris 2K Color LCD Resin 3D Printer
Email Confirmation
An order confirmation email will be sent to the email address used to submit the order after proceeding with payment. With your confirmation, we will ship out your purchased items as soon as possible. Generally, your order will be processed within 2-3 working days. If longer time required, we will notify by email. Feel free to drop us a line at service@flashforge.com if you have any questions on package lead time.
Notes: If no confirmation received from your side, we assume that you have confirmed the order.
Shipping Time
Flashforge have international local warehouses for most 3D printers, while accessories are basically all stored in China warehouse. If your order combines 3D printers and accessories, we will split the order and ship in two or three packages to ensure you get the 3D printers in advance.
Generally, the delivery of 3D printers might take 2-5 working days while that of accessories maybe slightly longer. More time may be required for accessories customs clearance and other possible factors.
Delivery and Cost
Service
Normally, international shipment will be delivered via DHL, FEDEX, UPS, EMS and SF Express. Estimated shipping time is 5-7 working days. We use DDP shipping terms when ship to following countries. That is saying Flashforge will pay the import duties, taxes, and VAT for you. You just pay the listing price and shipping rate.
North America: United States, Canada
Europe: United Kingdom, France, Germany, Italy, Spain, Czech Republic, Belgium, Netherlands, Poland, Latvia, Sweden, Ireland, Greece, Finland, Denmark, Portugal.
Shipping fee
We offer free shipping on items available in local warehouse. For orders does not qualify for free shipping, you will get an estimated shipping cost on order submission page.
Flashforge takes no responsibility for abnormal orders under the following conditions:
Shipping time might be delayed for 3-5 working days for orders shipped to remote regions or countries with strict customs clearance policy.
Failure of delivery due to undue actions of the consignee including but not limited to changing shipping address after shipment, giving an unknown address (such as a P.O. box or wrong address), giving incorrect contact information, and refusing to accept delivery.
Shipping delay or failure due to force majeure. "Force majeure" means an unforeseen, unavoidable, or insurmountable objective situation and other objective conditions leading to delays in shipping, including but not limited to control or interruption of national or regional air or ground transport systems (such as weather reasons), interference or failure of communication systems, government actions, changes in postal administration policies, wars, earthquakes, typhoons, floods, fires, heavy rains, fog, and other similar events. 
Signature Requirements
For orders above $400, please provide a signature for successful shipment.
Tracking Your Order
Option one: Log in to your Flashforge account, enter "My Orders" section to check corresponding order.
Option two: Contact Flashforge Support by email at service@flashforge3dp.com for more information.