Help in Deciding Which Flashforge 3D Printer is Right for You
All Flashforge 3D printers are qualified and able to well print what you want. But still the price varies from below $200 to about $900. What's the difference between them? That's a question many customers have ever asked.
Generally, prices are set different because of different value-adding features built on different 3D printers. Just like all mobile phones are capable of calling, sending message, and surfing Internet, but some are expensive and added with higher configuration.  
For Flashforge 3D printers, main value-adding features include larger build volume, advanced-level extruding assembly, higher printing temperature supported, diverse filament supported, Internet/WiFi connection, and outward appearance design.
For personal customers, you don't need to buy a 3D printer with all the value-adding features in there. Just select the one that meets your needs most! This article, considering from different application scenes of customers', offered some help in deciding which Flashforge 3D printer is right for you!
1. as a big electronic toy
Some people around you are playing with a 3D printer. They showed off what they 3D printed on various media channels and got many likes! You feel it cool and funny and want a 3D printer trying something fresh yourself! Definitely, 3D printer is a wonderful big toy to show your lifestyle of high quality, high tech, and fashion leading. Just think the big toy as one of your electronics!
Suggested 3D printers:
Adventurer 3 ($359),
Adventurer 3 Pro ($389),
Dreamer NX ($299; no camera).

The three Flashforge 3D printers are easy to start for new beginners and contain such modern-life features as WiFi connection, online webcam, touch screen, and Cloud storage. Treat your 3D printer as a thing of Internet! Just like a phone or a computer to use it!
2. as a high-end gift
I once saw a Variety Show on TV in which famous celebrities appear. A snatch of the Episode showed a famous national athlete dropped in a famous DJ and sent a 3D printer to the DJ's daughter. In such case, you can select a 3D printer with high-end outward appearance, cute bright colors, and with safer friendly structural design.
Suggested 3D printers:
Finder ($279);
Adventurer 3 ($359);
Adventurer 3 lite ($269);
Adventurer 3C ($249);
Adventurer 4 ($799).
Finder, with red and cute outlook, is pretty good as a gift for kids. Adventurer 3 series is an enclosed unit, a little bit larger than Finder. Adventurer 4 is the largest and the most expensive one among them. The elder age your friend is, the bigger 3D printer you can select as the present.
 3. as a house-hold appliance
In this application scene, you are treating a 3D printer as a home-use tool, to self-make home use gadgets, such as paste hooks behind doors, garage kits, your favorite arts crafts, etc. Practical usage and cost-effectiveness are what you consider the most.
Suggested 3D printers:
Voxelab Aquila C2 ($179).
Voxelab Aquila X2 ($199);
Voxelab Aries ($289);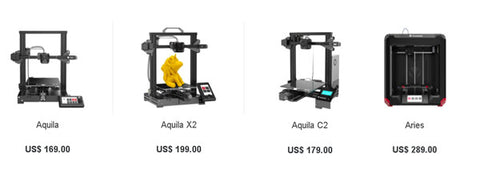 Voxelab is the sub-brand of Flashforge. They don't have enclosed chamber, but open build volume that is as large as Adventurer 4 and set with lower price! You can refit the extruder yourself to upgrade your Voxelab to an advanced-level 3D printer!
4. from entry-level to advance-level
After mastering the basic 3D printing skills, you want to go further in 3D printing field and become an experienced user. When others meet issues you can guide them. In this application scene, your right choices are advanced 3D printers.
Suggested 3D printers:
Creator Pro ($429);
Creator Pro 2 ($599);
Guider II ($849);
Guider IIs ($1999)

Both Creator Pro and Creator Pro 2 are with two extruders, which is a prominent feature. Especially the independent dual extruders of Creator Pro 2 mean you can make double printing at one time. Also using them to try the dual color printing and dual filament printing!
Also, advanced Flashforge 3D printers support more printing materials. Besides the commonly used plastic filaments like PLA and PETG, you can also use Guider II and Guider IIs to print with flexible filaments like ABS and ASA, as well as those carbon fiber reinforced filaments like PLA-CF.
 5. as a creative maker
Industrial designers, structural designers, or design agencies need a 3D printer to realize and verify the model works they've designed. From the perspective of mechanical structure, strength, or surface finish, those creative makers need a physical model.
Suggested 3D printers:
Adventurer 4 ($799)
Creator 3 ($2999)
Creator 3 Pro ($3499)
Foto 13.3 ($1999)
Selecting a 3D printer with diverse advanced features is quite important in such application scene. For instance, to verify the model strength, the makers may change with various printing materials that need extruders supporting higher printing temperature. And, different printing materials may get models of different surface finish. Makers need a 3D printer supporting diverse types of verification.
6. for educational use
It's quite smart of some schools, universities, and educational institutions to purchase 3D printer as a way of STEM education. FDM 3D desktop 3D printers intuitively show students how a physical object is built layer by layer. Teachers can show the children the 3D file, explain how the slicing software works and display them the code that makes the 3D printer move, a way of helping children understand how hardware and software are combined and how a mechanical device is assembled based on chips and processors.
Suggested 3D printers:
Adventurer 4 ($799)
Adventurer 3 Pro ($389)
Creator Pro 2 ($599)
Others
Besides the above mentioned application scenes, 3D printers are applicable for professional use, such as for small-scale business production, for dental printing, and for wax pattern printing. Flashforge Creator 4, Flashforge Hunter, and Flashforge WaxJet400 are the resolutions for those application scenes. Welcome to contact us for detailed info.
The prices for different Flashforge 3D printers mentioned in this article are not fixed all the time. Discount, holiday sales, or other activities are often held. Welcome to follow me for instant price updates.